HOW-TO RESTORE FADED TRIM
Have you noticed that some areas of your car look aged and weathered? An easy way to renew your car to like new is by restoring the exterior plastic & rubber trim. Exterior surfaces can fade, caused by exposure to the sun's UV rays, and the vibrant color can become grey and dull. Using a Trim Restoration product will renew the shine, color and appearance of plastic and rubber. Trim Restorers also provide an extra layer of protection from future fading, keeping that like-new appearance longer.
RESTORE TRIM ON OLDER OR WEATHERED CARS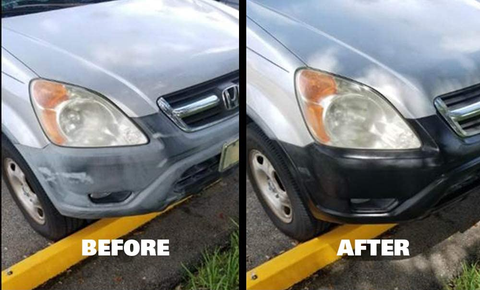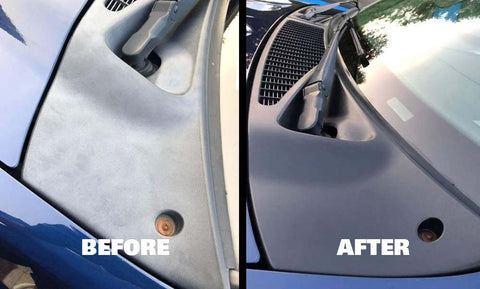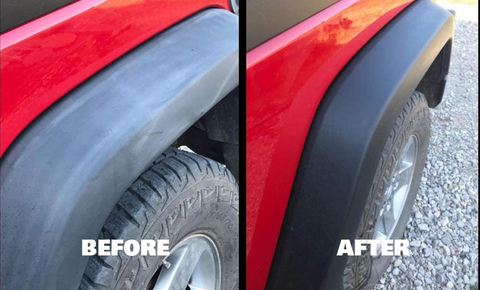 Step 1: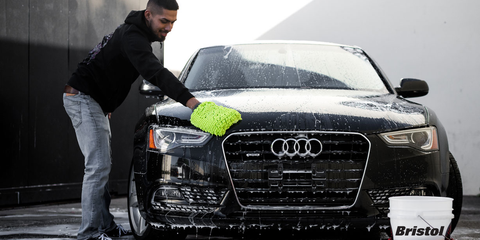 Step 2:
Apply Trim Restorer using a foam applicator or microfiber cloth.
These products can be purchased at our store. Use a back and fourth, overlapping motion to make sure the product is evenly applied to the entire plastic area.
Wait 10 minutes for product to dry to avoid dripping or streaking.
NOTE: These products are made for plastic & rubber, not for your car's paint.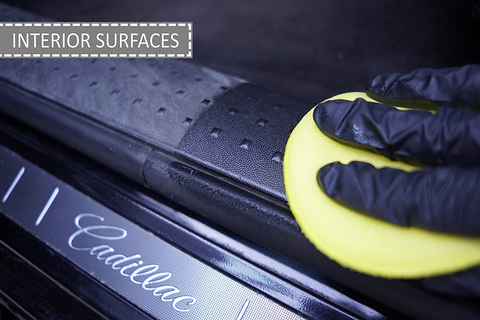 Step 3:
Apply up to 2-3 additional layers if desired. This will darken the trim to it's original shiny black appearance and add more protection.
Trim Restorers last for several months. It's recommended to reapply once a season during the year. 
It only took me 30 minutes to make my 12 year old Jeep look like it did the day I drove it off the showroom floor."-Michael
His Before & After photo
SHINE AND PROTECT TRIM ON NEWER CARS
Step 1:
Use Protectant once a month to renew the shine of exterior plastic & rubber.
This will also add protection from UV rays and weather from rain & snow.
Bristol Car Renew Kits can be ordered in Bristol Store. 
Step 2: 
Simply spray directly on surface and spread evenly with a microfiber cloth.
Step 3:
Add layers to increase the level of shine, ranging from a natural matte look to a high, wet-looking shine.
Feature Product